COVID-19 & Rural Health Clinics
**NARHC will update this page with additional resources throughout the COVID-19 Pandemic. Last Updated June 2021**
HRSA Programs - RHC Funding and Resource Opportunities
Name of Grant/Allocation

Important Dates

Amount/Purpose

Reporting Requirements & Other Links

Rural Health Clinic COVID-19 Testing and Mitigation Program

Automatically Awarded: June 2021

To be spent between January 1, 2021, and December 31, 2022

$100,000

To be used for COVID-19 testing, COVID-19 mitigation, and COVID-19 testing and mitigation related expenses.

Terms and Conditions

MANDATORY REPORTING TOOL

Instruction Webinar

Rural Health Clinic Vaccine Confidence (RHCVC) Program

Application Due: June 23, 2021

Program Start Date:

July 1, 2021

Program End Date:

June 30, 2022

Anticipated $50,000 for one year

To improve vaccine confidence and counter vaccine hesitancy through improving education, access, etc.

Step-by-Step Instructions

Instruction Webinar

The Federal Financial Report (SF-425), submitted electronically through the Payment Management System will be required no later than
October 30, 2022 for the budget period ending June 30, 2022.

Rural Health Clinic COVID-19 Vaccine Distribution Program

Ongoing – Available Now

Direct shipments of the COVID-19 Vaccine (Pfizer, Moderna, and/or Johnson and Johnson).

Rural Health Clinic COVID-19 Testing Program

Automatically Awarded May 2020

Funds must be spent by

Dec. 31, 2021

$49,461.42

To be used for COVID-19 testing and COVID-19 related expenses.

Terms and Conditions
FAQs
Webinars

MANDATORY REPORTING TOOL

Step-by-Step Instructions

Instruction Webinar

Provider Relief Fund
RHCs have received multiple tranches or allocations of money from the federal
government to help with COVID-19. It is important for RHCs to understand why they
received the money they did, and what strings may be attached to each allocation.
General details.
| | | | |
| --- | --- | --- | --- |
| Name of Grant/Allocation | Date | Amount | Reporting Requirements & Other Links |
| Phase 1 General Distribution | April 10, 2020 | 6.2% of 2019 Medicare Reimbursement | |
| Phase 2 General Distribution | April 24, 2020 | 2% of 2018 revenue minus Phase 1 Distribution | |
| Phase 3 General Distribution | December 15, 2020 | Variable | |
| Rural Targeted Allocation | May 6, 2020 | $103k + 3.6% operating expenses (Ind.), Graduated Base Payment + 1.97% of operating expenses (PB) | |
Provider Relief Fund Reporting Requirements - Updated June 11, 2021 with new HHS Guidance

Other Funding Sources and Opportunities

Stay tuned for other sources of funding that will be coming soon to assist with unreimbursed COVID-19 expenses.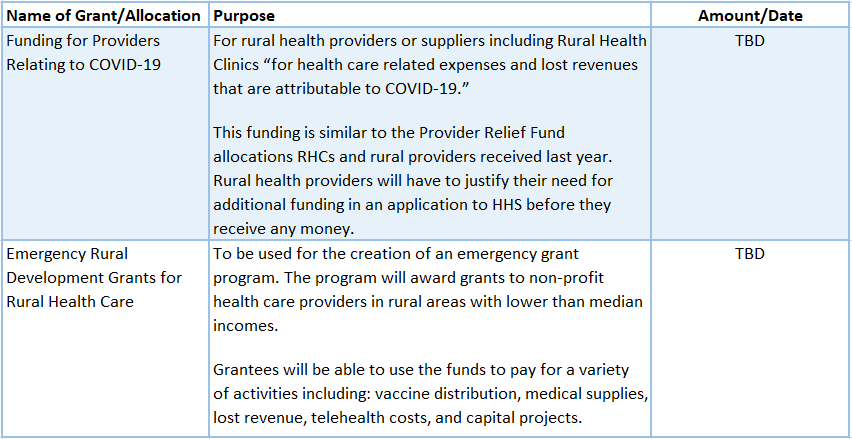 Telehealth Policy Change During COVID-19
Medicare telehealth policy has shifted dramatically for the entire healthcare industry in response to COVID-19. Rural health clinic telehealth policy has also shifted significantly, but in different ways than fee-for-service providers.
The following chart breaks down the types of telehealth services RHC can bill for and how to bill for them.
All RHCs billing for telehealth should review the MLN Matters document: New and Expanded Flexibilities for Rural Health Clinics (RHCs) and Federally Qualified Health Centers (FQHCs) During the COVID-19 Public Health Emergency (PHE).
In December CMS announced significant telehealth coinsurance changes.

Public Health Emergency Duration
The Secretary of Health and Human Service posts their Public Health Emergency Declarations here: https://www.phe.gov/emergency/news/healthactions/phe/Pages/default.aspx
Earlier this year, Acting Health and Human Services Secretary Norris Cochran stated in a letter to the governors that it had been "determined that the PHE will likely remain in place for the entirety of 2021." Commercial payers may issue their own policies with their own timelines that may or may not depend on the federal government's declaration of a public health emergency.