HRSA Rural Health Clinic
COVID-19 Testing Supply Program FAQs
How to Enroll
HPOP
RHC Spotlight
Program Policies
Test Kits
POC Analyzers and Strips
Billing
General
What is the HRSA COVID-19 Testing Supply Program?
This program provides free, at-home self-tests and other testing supplies to CMS-certified Rural Health Clinics (RHCs). It is intended to increase testing availability for populations and settings at the greatest risk from adverse outcomes related to COVID-19, including the rural communities served by over 5,300 CMS-certified RHCs nationwide.

Starting in February of 2022, HRSA expanded the testing supplies distributed to also include N95 masks, Point of Care (POC) testing analyzers, and test strips. As of August 31, 2022, the N95 masks and POC analyzers are out of stock. As of December 1, 2022, HRSA further expanded the supplies available to include Cepheid multiplex POC cartridges.
Are RHCs required to participate in this program?
No, eligible RHCs choose to enroll and register in this program.
How to Enroll in the HRSA COVID-19 Testing Supply Program
RHCs must complete the following steps to enroll in the program:.
Confirm that you are a Medicare-certified Rural Health Clinic and identify your CMS Certification Number (CCN). If you are unsure, visit the CMS QCOR website to look up your CCN number and confirm your status as a Medicare-certified RHC.
Email the RHCTestKit@hrsa.gov with the following information for each RHC you are seeking to enroll:
Clinic CCN
Clinic Name
Delivery Address
Delivery Hours
Can the delivery site accept a semi-trailer
Delivery Contact Name
Contact Email
Contact Phone Number
Sign the HRSA COVID-19 Testing Supply Program Conditions of Participation Agreement (
linked here
) and return it to
RHCTestKit@hrsa.gov
.
You may sign in whatever way is easier for you - either electronically or by returning a printed and manually signed document.
After 7-10 days you will receive an email with login information to DPOP an online ordering and inventory management system. Ordering minimums and maximums will be updated in DPOP on a weekly basis.

Please contact RHCcovidsupplies@narhc.org with any questions.
Ordering Portal / Inventory Management (HPOP)
What is HPOP?
RHCs will use an online database system called HPOP, or the Health Partner Ordering Portal, to place COVID-19 testing supply orders, manage contact information, and store data.

Once your organization has been enrolled in the program, you can order supplies and manage inventory here: https://hpop.hhs.gov/

With any questions, please email

RHCcovidsupplies@narhc.org
RHC COVID-19 Programs - Fairfield Medical Associates
COVID-19 Supply Program - Valley Health
COVID-19 Supply Program - San Luis Walk-In Clinic, Inc
COVID-19 Supply Program - Union General
<
COVID-19 Supply Program - Tullahoma Pediatrics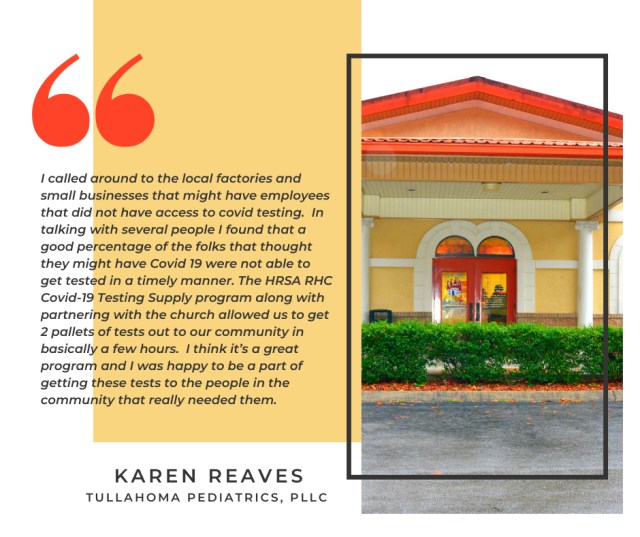 Program Policies
Who can my RHC distribute these supplies to?
The HRSA COVID-19 Testing Supply Program does not have specific distribution requirements. However, NARHC encourages RHCs to use their best discretion when distributing supplies to the local community. They can share supplies with their patients, non-patients, other organizations, and RHC Staff.

RHCs cannot sell the supplies.

What are the reporting requirements for this program?
RHCs must report at-home test kit inventory and analyzer strip inventory stock on hand

weekly

on DPOP. RHCs also do not need to log individual patient usage or positive test results. NARHC encourages you to review your state reporting guidelines for further guidance.

Do RHCs need to provide any additional materials to recipients along with the test kit?
RHCs should include state/local reporting guidelines for results, as well as a general statement to contact a health care provider if the individual is in need of treatment. RHCs must follow the FDA EUA that comes within each test kit.

Attached here is a template you may use.


Does my RHC need to obtain informed consent when passing out test kits?
No. There are no requirements for test kit recipients to sign consent forms.
*Please click here to view updated expiration dates for At-Home OTC COVID019 Tests.
How many test kits can I order?
Order quantities vary weekly depending on product availability, so please reference the banners in DPOP to view the most updated ordering caps/amounts.
What type of tests are distributed through this program?


Brands of at-home OTC COVID-19 Test kits offered through this program change depending on availability. These brands include

Quidel QuickVue® At Home OTC COVID-19 Tests and the Siemens CLINITEST Rapid COVID-19 Antigen Self-Test.
What are the storage requirements for the test kits?
Quidel QuickVue test kits must be stored at room temperature (15-25?C/59-77?F), and they have a shelf life of one year.
Do the test kits contain EUA fact sheets?
Yes.
Can I deliver my shipment to another location?
Yes, as long as a representative from your organization is there to receive and handle the order.
Can we return unwanted supplies?
HRSA does not accept returns. Please distribute supplies to other healthcare facilities, or discard them if they have expired.
How many POC analyzers and test strips can I order?
Order quantities vary weekly depending on product availability, so please reference the banners in DPOP to view the most updated ordering caps/amounts. Due to limited supply, HRSA cannot guarantee that all requests will be filled.

As of August 31, 2022, POC analyzers are no longer available for ordering.
How do I use these products?
These supplies are for in-clinic use only. The analyzer strips work in combination with the analyzer machine. Please review the instructions accompanying the analyzer for further use assistance.
What brand are the analyzers and test strips?
Brands may vary.
Can I deliver my shipment to another location?
Yes, as long as a representative from your organization is there to receive and handle the order.
Do I need to include Over-The-Counter (OTC) Tests in my RHC's cost report?
OTC are not billable services and may not be included on the cost report. If any RHC staff helps a patient use an OTC test, the personnel costs of the staff must be removed from the RHC's cost report.
How do I charge for Point of Care (POC) Tests?
The administration and supply costs should be included on the RHC's cost report but there is no supply cost if the POC tests are acquired for free from the federal government.
Does COVID-19 Testing constitute a Medicare Encounter?
No, COVID-19 tests alone do not constitute Medicare encounters. However, testing during a Medicare encounter does not impact the AIR reimbursement.
What is reimbursable under the RHC COVID-19 Testing (RHCCT) and RHC COVID-19 Testing and Mitigation (RHCCTM) programs?
Money disbursed from the RHCCT and RHCCTM programs may not be used for things that are otherwise reimbursed. Calculating what is reimbursed vs. what is not reimbursed sometimes depends on your RHC's cost per visit relative to your RHC's upper payment limit. This funding may be used to purchase OTC tests as RHCs are never reimbursed for OTC tests.